Those who think "we've always done it like this, why change?"
are missing out on intuitions like that of Gary Hammerslag, who wanted to give his snowboard boots a faster, easier and more precise fit.
After years of study, in 2001 he created and patented the BOA® Fit System, adjustable to the millimetre, easy to fit in any conditions, super durable and with guaranteed day-long maximum comfort.
THE BOA® FIT SYSTEM.
The BOA
®
Fit System delivers micro-adjustable, precision fit engineered to perform in the toughest conditions. It consists of three integral parts: a micro-adjustable dial, lightweight yet extremely strong laces and low friction lace guides, which are applied in uniquely designed configurations to improve the fit and performance of the shoe. The components of the BOA® Fit System are tested under the toughest conditions and dial and laces are covered by the BOA® Lifetime Guarantee.
- BENEFITS OF THE BOA -
DIALED IN.
Micro-adjustable, precision fit for even pressure distribution, keeping you on your feet and focused on the job for all-day performance.


SECURE.
No loose laces – our precision engineered laces stay contained in the dial cartridge, out of your way and out of machinery.


CONFIDENT.
When we say tough, we mean it. Engineered with ultra-durable materials, the BOA® Fit System is extensively tested for the harshest conditions. It defies sand, mud and ice and can be adjusted any time, one-handed and gloved.

BOA® LIFETIME GUARANTEE.
Every aspect of the BOA
®
Fit System is engineered to exacting durability standards, designed with precision, and manufactured in a state-of-the-art facility so that we can say with confidence: wherever life takes you, we won't let you down. In fact, we guarantee it.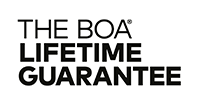 The BOA® Fit System is guaranteed for the lifetime of the product on which it is integrated.
BREAK A DIAL OR LACE?
Visit BOAFIT.COM/SUPPORT to get your free repair kit. Repairs can be performed fast and easy.